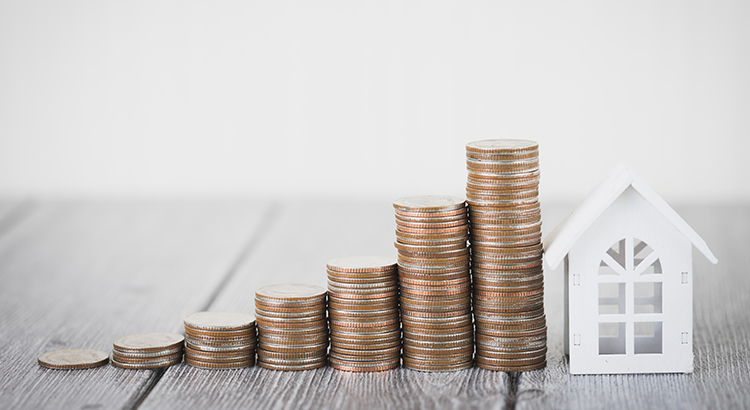 If you're a current homeowner, you should know your net worth just got a big boost. It comes in the form of rising home equity. Equity is the current value of your home minus what you owe on the loan. Today, you're building that equity far faster than you may expect – and this gain is great news for you.
Here's how it happened. Home values are on the rise thanks to low housing supply and high buyer demand. Basically, there aren't enough homes available to meet this high buyer interest, so bidding wars are driving home prices up. When you own a home, the rising prices mean your home is worth more in today's market. And as home values climb, your equity does too. As Dr. Frank Nothaft, Chief Economist at CoreLogic, explains:
"Home prices rose 18% during 2021 in the CoreLogic Home Price Index, the largest annual gain recorded in its 45-year history, generating a big increase in home equity wealth."
The latest Homeowner Equity Insights from CoreLogic shed light on just how much rising home values have boosted homeowner equity. According to that report, the average homeowner's equity has grown by $55,300 over the last 12 months.
Want to know what's happening in your area? Here's a breakdown of the average year-over-year equity growth for each state based on that data.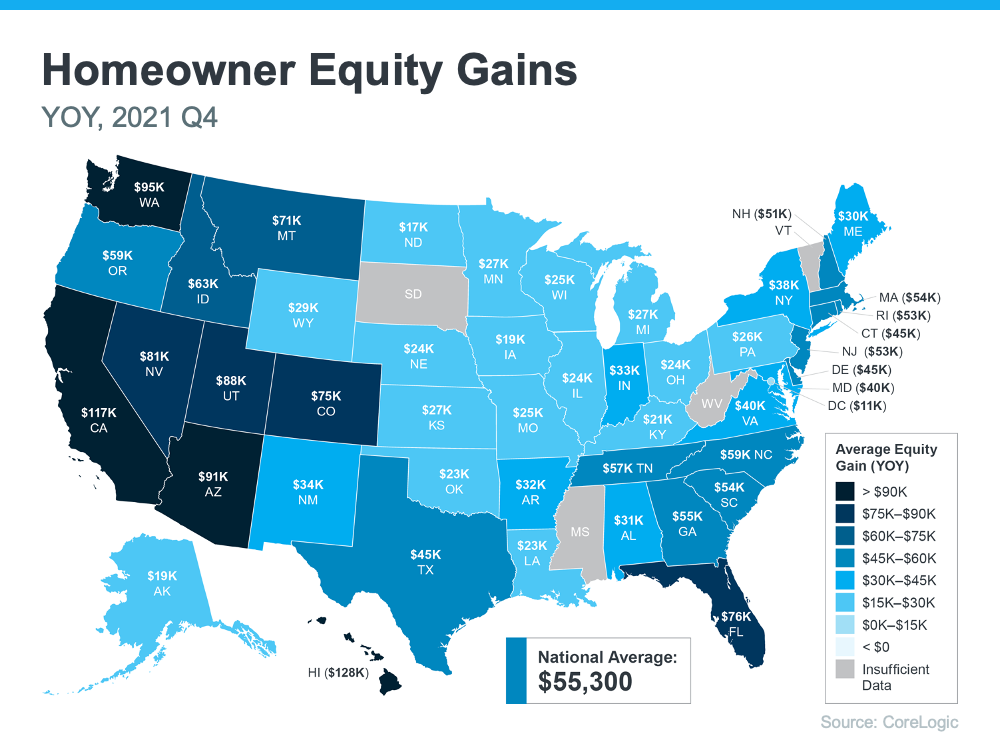 How Equity Is Factoring Into Foreclosures
ATTOM – a national foreclosure data licensor – recently released their Q3 2021 findings causing a stir in the news. "Lenders started the foreclosure process on 25,209 U.S. properties in Q3 2021, up 32 percent from the previous quarter and up 67 percent from a year ago — the first double digit quarterly percent increase since 2014." (read full release). While this sounds like the we are headed toward a "wave" of foreclosures, it is important to look at the current numbers in relation to past years.
2020 marked the lowest foreclosure rate since ATTOM began publishing their data back in 2005. While we are seeing an increase now, we are still at only a fraction of the amount of foreclosures that were recorded 2019 and earlier.
The FHA's Single Family foreclosure moratorium played a big part in the initial drop in foreclosures but with the final extension now past, why are foreclosure rates so low? Equity. "The pandemic related increase in serious delinquencies was very different from the increase in delinquencies following the housing bubble. Lending standards have been fairly solid over the last decade, and most of these homeowners have equity in their homes" (CalculatedRisk by Bill McBride). Utah – particularly Salt Lake and Utah counties – experienced significant increases in property values during the pandemic. This increase has given those at risk of foreclosure the ability to renegotiate loan terms or simply sell to avoid losing their home.
While foreclosures are expected to continue to rise, no data is pointing to a "wave" but instead a gradual increase to pre-pandemic norms.
How Rising Equity Impacts You
In addition to building your overall net worth, equity can also help you achieve other goals like buying your next home. It works like this: when you sell your house, the equity you built up comes back to you in the sale.
In a market where you're gaining so much equity, it may be just what you need to cover a large portion – if not all – of the down payment on your next home. So, if you've been holding off on selling and worried about being priced out of your next home because of today's home price appreciation, rest assured your equity can help fuel your move.
Bottom Line
Equity can be a real game-changer if you're planning to make a move. To find out just how much equity you have in your home and how you can use it to fuel your next purchase, let's connect so you can get a professional equity assessment report on your house.